The Rail Ale Ramble People

Crookham Travel

Quality Tours with Taste since 1977

XX

REAL ALE RAMBLES

RAIL ALE RAMBLES

EXPLORER TOURS

BEER TOURS

BREWERY VISITS

GOOD BEER GUIDE

PUBS & INNS

STEAM & DIESEL

CRAFT BEER

<![if !vml]><![endif]>

<![if !vml]><![endif]>

<![if !vml]><![endif]>

<![if !vml]><![endif]>

<![if !vml]><![endif]>

<![if !vml]><![endif]>

<![if !vml]><![endif]>

<![if !vml]><![endif]>

<![if !vml]><![endif]>

TRADITIONAL BREWERIES

HERITAGE RAILWAYS

GREAT PUBS & INNS

MODERN RAIL TRACTION

INLAND CRUISING

HISTORIC TRAMWAYS

COASTAL CRUISING

MICRO-BREWERIES

FUNICULAR RAILWAYS

<![if !vml]><![endif]>

<![if !vml]><![endif]>

<![if !vml]><![endif]>

<![if !vml]><![endif]>

<![if !vml]><![endif]>

<![if !vml]><![endif]>

<![if !vml]><![endif]>

<![if !vml]><![endif]>

<![if !vml]><![endif]>

CLASSIC VEHICLES

NARROW-GAUGE TRAINS

INDUSTRIAL HERITAGE

REAL CASK ALES

MINIATURE RAILWAYS

MONORAILS

LOVELY SCENERY

CITIES AND TOWNS

MODERN TRAMS

XX

<![if !vml]><![endif]>

<![if !vml]><![endif]>

| | | |
| --- | --- | --- |
| <![if !vml]><![endif]> | Crookham Travel provides day tours and longer holidays with Brewery Visits, Pub Tours, Preserved Railways, Tram Systems, Christmas Markets, River Trips, Coastal Cruises, City and Country Breaks in the UK and abroad. See the pictures above for some of our past activities. Established since 1977, we have, so far, organised more than 440 trips for over 38,000 participants! Please check our "Tours" link above. All tours start from London (unless stated otherwise) but some may be joined en-route. We are a Supplier Associate Member of SIBA – The Society of Independent Brewers - and were selected as Supplier Associate of the Year in 2017. | <![if !vml]><![endif]> |

NOW BOOKING:

THE

CHESHIRE & WIRRAL

EXPLORER

Friday 27th to Monday 30th March 2020

We shall be staying in the grand city of Chester at one of its oldest and finest hotels of the "railway era", The Queen, which is located right opposite the rail station. It is a very comfortable place with local real ale and is a good base for our activities. On this tour we are pleased to be able to include not one but two very interesting transport visits, namely the Anderton boat lift and the Birkenhead the transport museum plus a ride on its tracks to the ferry. Of course there will be brewery visits (Brimstage, Peerless, Oaks and Chapter; plus the taps of Pied Bull and Red Willow breweries. Added to that are some fine Good Beer Guide pubs and free time in Chester.

After feedback and recent initiatives in recent programmes this tour has more time in nice pubs, as well as some usual brewery visits with ample time to properly "do things" in our base city.

Click on the  TOURS   tab above for details and booking form

NOW BOOKING:

A Return to Riga

An Explorer Tour to Latvia

Wednesday 27th May to Monday 1st June 2020

Includes a City of Riga retro tram tour, river cruise to Jūrmala, coach tour to Sigulda, guided pub walking tour, breweries and craft beer, and historic architecture.

In 2001 we made one of our early "beyond the wall" tours to Latvia. Then we were lucky to find three breweries to visit; now there are several more than this plus a host of craft beer pubs in a area now designated as the Riga Beer District. The still very-good-value of drinks and other items will not burn a large hole in one's pockets during this early summer long weekend. Some final information is still awaited but bookings have opened now as Air Baltic has a seat sale on until 12th November where some good prices are available on our dates and some around them. Please click on the "Details and Booking Form" link.

Click on the  TOURS   tab above for details and booking form

<![if !vml]><![endif]><![if !vml]><![endif]><![if !vml]><![endif]><![if !vml]><![endif]>

We were very pleased to see an excellent and informative article in a recent edition of the Group Travel Organiser Magazine, "Gerald's Rail Ale Rambles are Thirsty Work!" Please click on the images above to see the article (courtesy of Group Travel Organiser).
CROOKHAM TRAVEL
11 Attlee Gardens, Church Crookham, Fleet, Hampshire GU52 6PH

Telephone & Fax: 01252 66 56 52
email:
gddtravel1977@gmail.com
In accordance with "The Package Travel, Package Holidays and Package Tours Regulations1992".
All passengers booking with Crookham Travel are fully protected for the initial deposit and subsequently the balance of all monies paid to us, including repatriation if required, arising from cancellation or curtailment of your travel arrangements due to the insolvency of Crookham Travel
There is no requirement for Financial Protection of day trips, and none is provided.
A certificate detailing this cover will be given to each passenger as evidence of cover. Please ensure that you have been given the appropriate certificate(s) at the time of booking.
Consumer aware: This insurance is only valid for passengers who book and pay directly with/to Crookham Travel. If you have booked and/ or paid direct to a Travel Agent for a holiday with Crookham Travel please request proof of how the booking is secured as you should not receive an IPP certificate of insurance from Crookham Travel in this instance.
This Insurance has been arranged by International Passenger Protection Limited and underwritten by Insurers who are members of the Association of British Insurers & Lloyds Syndicates.
<![if !vml]>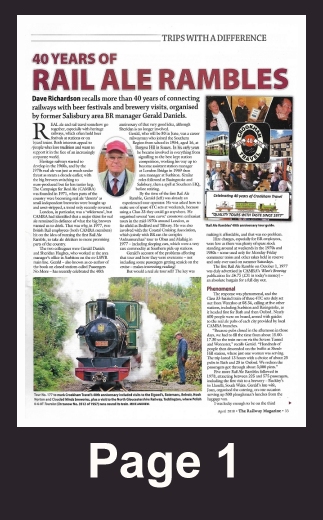 <![endif]>
Site designed and maintained by
© all content copyright 2019 Crookham Travel / Mike Andrew / Weydonian.net or as credited
If you believe we have infringed your copyright in any way, please contact the webmaster
Corrections, comments, broken links? Please contact the webmaster
 Page last revised: 09 January 2020