Announcing RAR 171 "Going For A Burton"
Saturday 3rd October 2015
Our next Rail Ale Ramble is to Burton on Trent, the home of British Brewing – it is also where the sole remaining Burton Union System in commercial use can be found. Marston's uniquely use this system at their Albion Brewery. Even if you're not that impressed with the Marston's beers you've drunk recently, a visit to their brewery is an absolute treat – it's one of the most fascinating sights in the brewing world!
<![if !vml]>
<![endif]>
However, that's not all that's on offer – we have chosen this date because the Burton SIBA Beer Festival is being held this weekend at the National Brewery Centre. This great day out will include a visit to Marston's brewery, transfer to the Beer Festival and entrance to the Festival. We can also provide train tickets from London (but please book quickly as the cheap fares sell out rapidly).
Interested? Please see click HERE for details and booking form
Tony Fox-Griffith
"The Cyprus Explorer"
Wednesday 2nd to Monday 7th March 2016
<![if !vml]><![endif]>

Click

for full details
<![if !supportLists]>§ <![endif]>Paphos town & Region
<![if !supportLists]>§ <![endif]>Two coach tours
<![if !supportLists]>§ <![endif]>Aphrodite's Rock Real Ale Brewery
<![if !supportLists]>§ <![endif]>Wineries, Troodos Mountains
<![if !supportLists]>§ <![endif]>Limassol & Nicosia areas
<![if !supportLists]>§ <![endif]>Across the Green Line – to North Cyprus!
<![if !supportLists]>§ <![endif]>Archaeological sites
<![if !supportLists]>§ <![endif]>Early Spring sunshine by the sea
<![if !supportLists]>§ <![endif]>Optional bowls competition with prizes
<![if !supportLists]>§ <![endif]>Five nights DB&B in the 4* ATHENA BEACH HOTEL
<![if !vml]>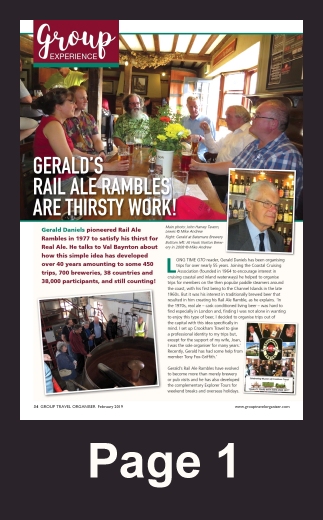 <![endif]>
8th May 2015
Crookham TraveL NEWS
by Gerald Daniels
TOURS UPDATE, AND NEW ONES FOR 2016
It's been a while since my last official CT News. It seems that every day at home requires attention to one event or another. However, just before I leave for my own holiday on 21st May, I wish to update you on our future plans. Virtually all is in place for the remaining tours this year; on-site research for Prague being arranged for September when there is a great 150thanniversary of their tram system – followed by a similar event in Vienna the following weekend!
For 2016 our first tour will take you to a destination not within our usual operational sphere, although in the late 70s we did visit a couple of former Colonies. This time the island of Cyprus will be offered as a five-night "rounded" tour based in Paphos. This was spawned by a trip I took last November when we stayed in the large, but still personal, family-run Amethyst Beach Hotel (4 stars). It lies less than one mile from the town itself; is extremely well appointed, with excellent food. Scenery is nice too.
Apart from the attractions of late winter Mediterranean sun, the island has lots of wineries which are worth visiting and the thing which clinched my decision, a great micro-brewery on the slopes of the Troodos Mountains. In addition to some leisure time we shall have two coach tours, one around the Mountains for wineries and brewery, plus a couple of the island's many archaeological sites thrown in. The second will show you more of the island by heading to Nicosia with the intention of giving you the facility of crossing The Green Line into North Cyprus to "tick" that disputed territory. TFG has good knowledge of the place having been there recently. I too have memories of staying there (in Kyrenia) in the 60s! At the hotel we shall take advantage of their bowling green and have a competition. I did and it's surprisingly fun and addictive.
Our weekend Explorer tours continue to be very popular and very good value for money. Because there is always so much to do in the area of our city base, there is occasionally insufficient time to enjoy the delights of the city itself. Free days are also well appreciated for the well-travelled, but we must look after those who come and wish to be generally guided. In late May we shall be offering our first specific City Explorer in Bradford, a city which is quickly climbing up the must-visit ladder for real ale, many in their very traditional pubs. Consideration has been given to a Thursday evening to Sunday event, or Saturday am to Monday one to see if that would enable brewery visits to be made when they are only possible on weekdays. Thursday would offer cheaper rail fares but they would be nullified by dearer ones on Sunday evening and, in some areas Sunday means no trains! Having considered all those possibilities I am of the view that the Friday-Monday format is probably the more convenient and cost effective. Public transport is so good in almost all northern cities that we should make more use of it to reach our goals that are near bus stops and stations; by so doing it reduces the tour price by avoiding daily coaching.
Continuing this theme for our second UK tour of the year, the suggestion of a base in Carlisle will be taken up, but it seems sense to include the Northern Lakes area as well, having covered very thoroughly the West and South Lakes Districts. Early September is a likely date for this tour.
Despite some hiccups in our service by Maritim Hotels last year, (all of which were robustly pursued during which both I and they learnt new things), they do offer great value for the product, not least in high summer when businessmen are in short supply. I met the very "can-do" manager from their large hotel in the Saxony-Anhalt Land capital Magdeburg (which is about an hour south west of Berlin) who has offered really great rates for a short break based in this former East German riverside (Elbe) city. River trips, the 800-year old cathedral, trams. Beers too, naturally. Its proximity to Berlin makes it sense to offer a short weekend there to allow visits to the famous Beer Festival. Building on the general satisfaction of using rail for longer distances in Germany, this tour will be rail-based throughout from London, using the A&O hotels for one night stopovers. A flight option will also be available. Departure will be from London on 3rd August; two nights Berlin, three at Magdeburg, back in London 11th August. By air two fewer days are required.
Finally for now, but certainly not the least, please keep Saturday 1st October 2016 clear in your diary. This famous day and date in the year is a notable one in the life of Crookham Travel and I am planning to offer you a unique stopover tour to celebrate the start of our 40th year of "Quality Tours with Taste". More soon. It always helps to have expressions of interest (or even stronger indications) for future events so please do feel free to let me know of your desired intentions for the above events. Comments and suggestions too, are welcome.
Gerald Daniels,
ably assisted by Tony Fox-Griffith and with thanks to Mike Andrew for the website
NEW PHOTO GALLERIES
Quite a few new photos have been added to our Photo Galleries recently, some by myself, others kindly contributed by Ron Andrews (no relation).
Mike Andrew
21st July 2015
New galleries include:
2015 Nottingham City & Shire Explorer
<![if !vml]>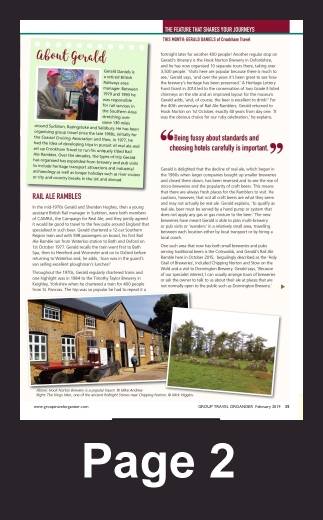 <![endif]>
<![if !vml]>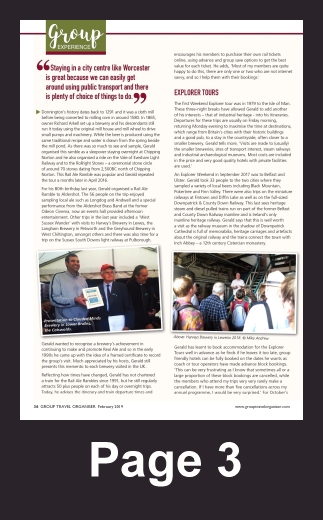 <![endif]>
2015 Warwick Wanderer (RAR169)
<![if !vml]>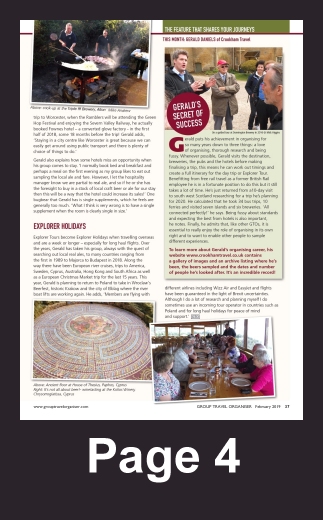 <![endif]>
2015 Newark Newcomers (RAR167)
<![if !vml]>
<![endif]>
For more photographs from over the years, take a look at our many galleries by clicking on the "PHOTOS" tab above, or on the following snapshot of part of our Photo Galleries index page:
<![if !vml]>
<![endif]>